1. Failure to convey a personality: Establish a recognizable 'voice' and personality in your on-line strategy, output, and audience engagement.
2. Failure to stay fresh: Frequent relevant updates are key
3. Failure to capture people's attention: You are trying to be noticed among massive volumes of information – use varied and frequent means to connect with people with those important, opportunistic moments.
4. Failure to interact with your audience. A pure push all about you is one-dimensional and shallow. Your audience wants a voice to! Give it to them. For example social media opens a free, 24/7 focus group to converse with and learn from.
5. Failure to capitalize on key events: If significant industry, world or company events are occurring and your voice is not heard, another companies will be.
6. Directing traffic to the wrong place, including not directing at all! Your social media strategy must include a filter/funneling system that systematically sifts and leads your targets to where you want them to be.
7. It's not Social vs. Search: Social media is an extension of SEO, which supports search marketing. Search (organic and sponsored) and social media must be a combined strategy of your comprehensive digital marketing strategy.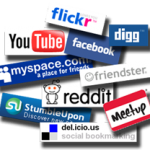 8. Ignoring user generated content (UGC): Whether it's good or bad. You do not control all content of social media – you have an on-line reputation regardless of your level of participation in it, simply because that is where people are looking today. Your company will be in a stronger position if you establish yourself and develop practices to keep up with, and leverage UGC in your favor.
9. Failure to measure results: Social media is a means to an end: Revenue growth and/or cost reduction. Be specific in quantifying your financial objectives and measure!
10. Limiting search or social to a public relations function. From SEO to Facebook apps, new technology leads the charge. While we have great respect for our AE and PR colleagues, the reality is: Tech savvy, multi-directional communication and relationship building are not their strengths. Experienced social media experts know the terrain and have the proper disposition and technical competence to move you beyond public relations to public relationships.
Blue Poppy will filter through the buzz, master technical requirements, and exploit opportunities for your company! Give us a call, 404-954-0354 or better yet send us a tweet @BluePoppySEM.
{ 0 comments }